En billig lærerplanlegger
LÆRERPLANLEGGER (Ukeplanbok)FOR 2022-2023. WEEKPLANNER FOR TEACHERS 2022-2023
Dette er kommende skoleårs ukeplanbok. Lite forandringer på innhold fra tidligere. Gjør bestilling nå.
This is the weekly plan book for the school year 2022-2023. Slight changes in content. You can place an order now. (use privat bestilling)
---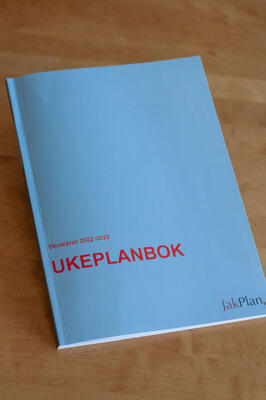 Lærerplanleggeren har vært en fast følgesvenn for lærere i mange år, og populariteten er er fortsatt stor. Boka har god plass til alskens notater, har rubikker for undervisningstimene i uka og store kalendere som det kan skrives i. Ukeplanboka er ei bruksbok, et billig verktøy for å ha kontroll på hverdagen og skoleåret.
The teacher planner has been a constant companion for teachers for many years, and the popularity is still great. The book has plenty of space for all kinds of notes, has sections for the teaching hours of the week and large calendars that can be written in. The weekly plan book is a utility book, a cheap tool for having control over everyday life and the school year.
Litt fakta:
Antall sider 120 + 4 sider omslag
Limfreset innbinding
Størrelse: A4
Lett og skrive i
Husk å klikke liker på Facebook
Dette er ukeplanboka (Noen sider) This is the weekplanner- some pages)

Pris pr bok: Kr. 129,- pr bok + mva og fraktutgifter
Offentlig bestilling Privat bestilling (Private and foreign orders)
---
---
---